Private Circuit Pazos de Galicia and Charming Hotels: Rías Baixas
NO CANCELLATION FEES up to 7 days before the start
Private circuit
Private transfers included throughout the circuit
Aimed at private and reduced groups of 2 to 8 people
6 Nights / 7 days in Pazos de Galicia and Charming Accommodations in the Rías Baixas
2 nights. Santiago de Compostela - Vilagarcía de Arousa - O Grove - La Toja - Sanxenxo
2 nights. Vigo - Pontevedra - Cíes Islands
2 nights. Baiona - Castro Santa Tecla - La Guardia - Tui - Valenca do Minho
Daily departures (flexible dates)
Guaranteed availability
Free Cancellation Insurance (up to 30 coverage)
Total price per person in double / triple room: From €749 / Person
To formalize the reservation, reservation deposit price: €60 / person. Rest of payment, 15 days before the start.
Circuit for private and small groups (2 to 8 people) with transfers included and private driver for all visits, in which in 7 days (6 nights) you will enjoy the different country houses and charming accommodations around the Rías Baixas. We will explore places such as the island of La Toja, the area of ​​Vigo and Pontevedra, the paradise islands of Las Cíes, Baiona and much more.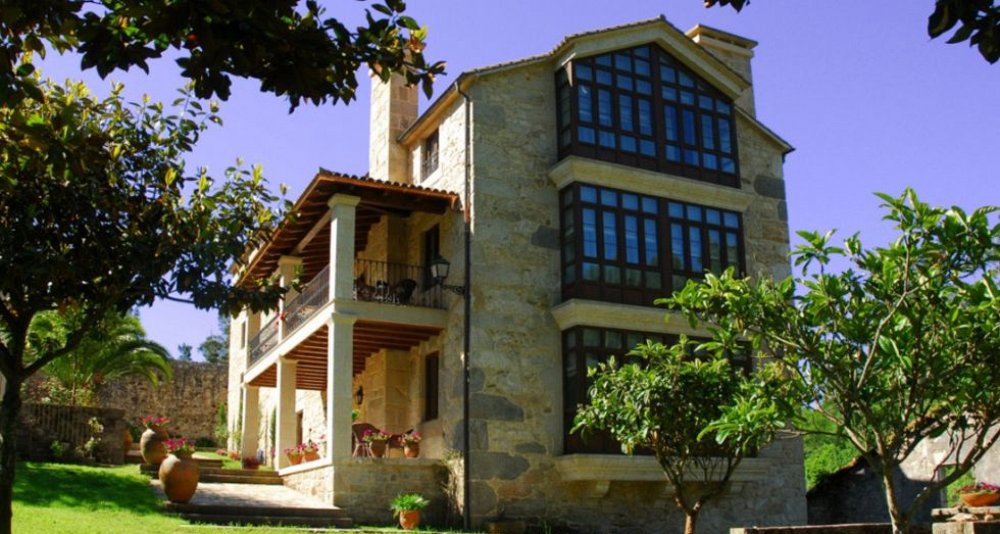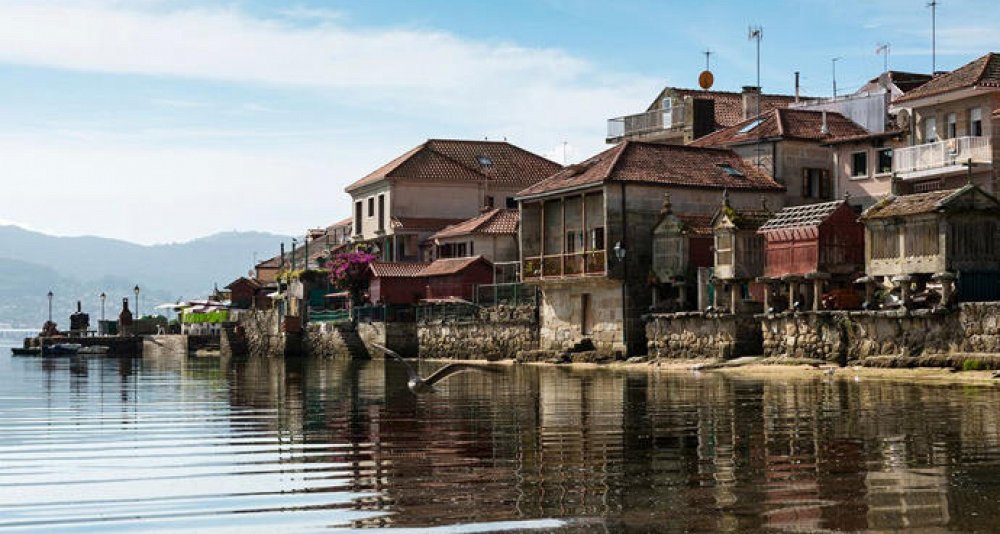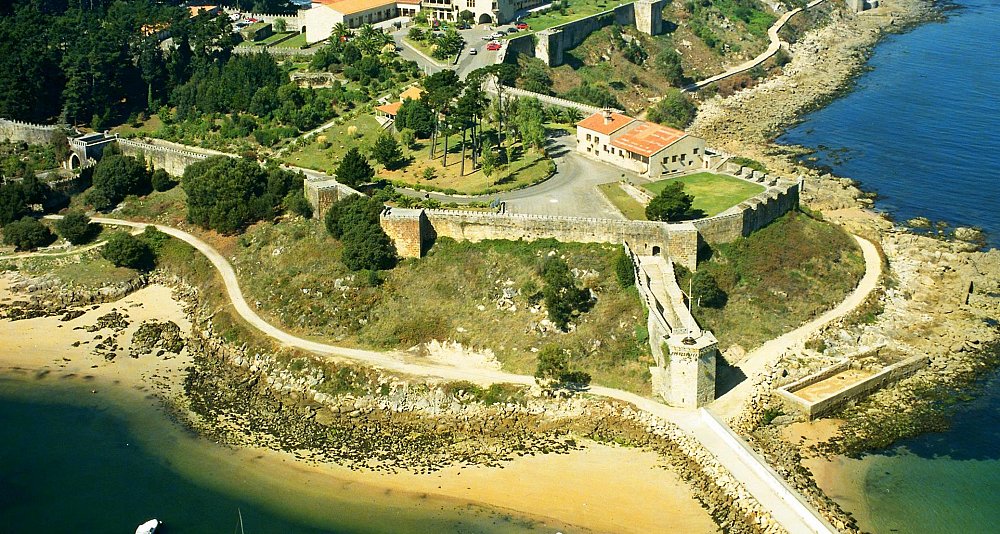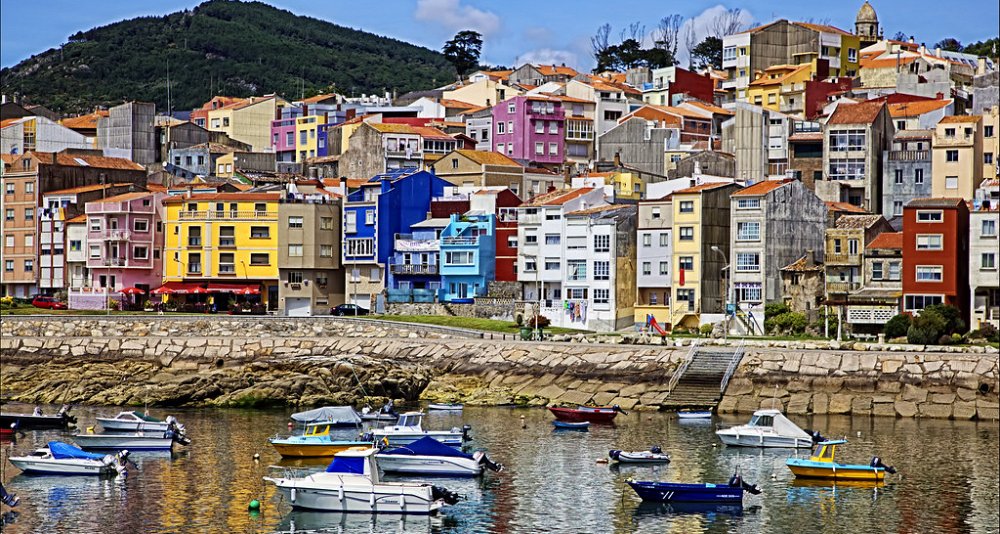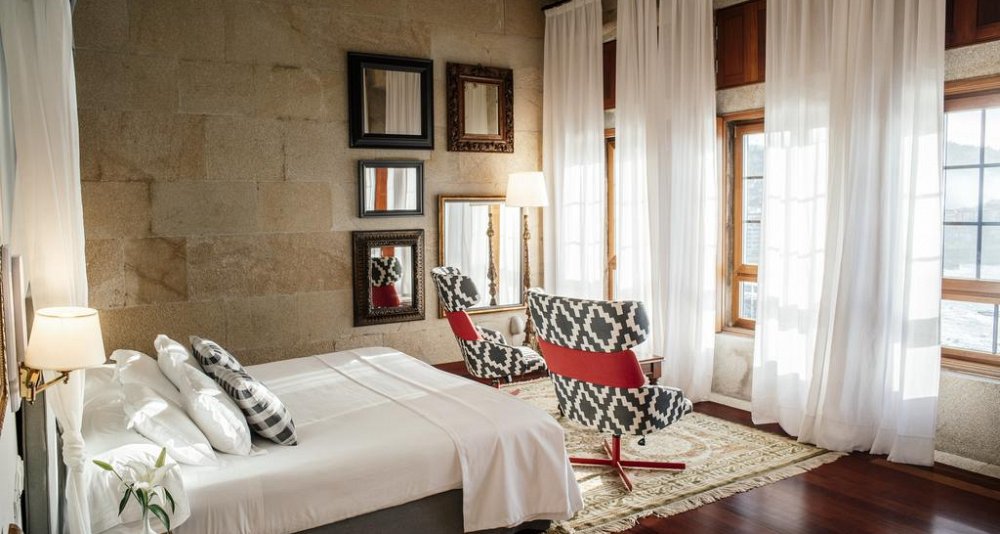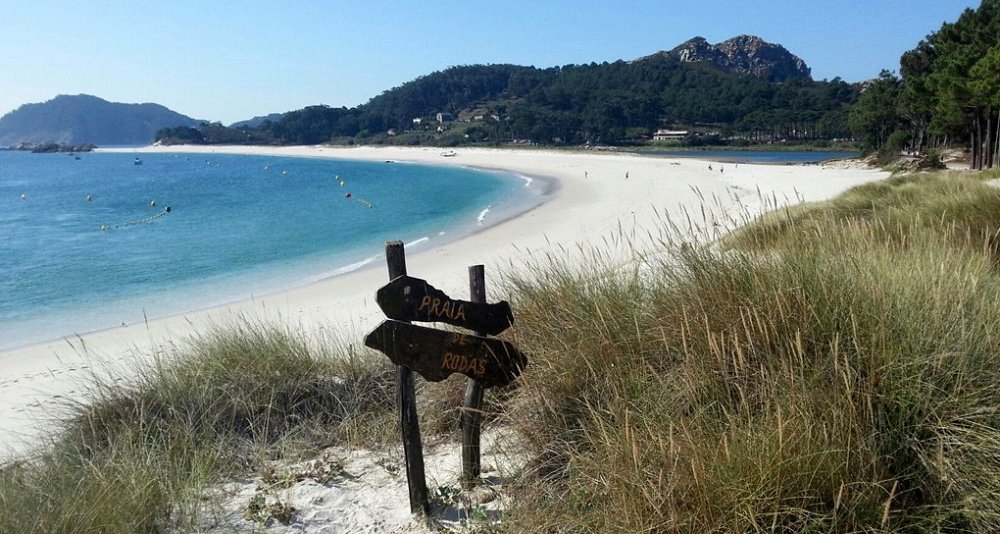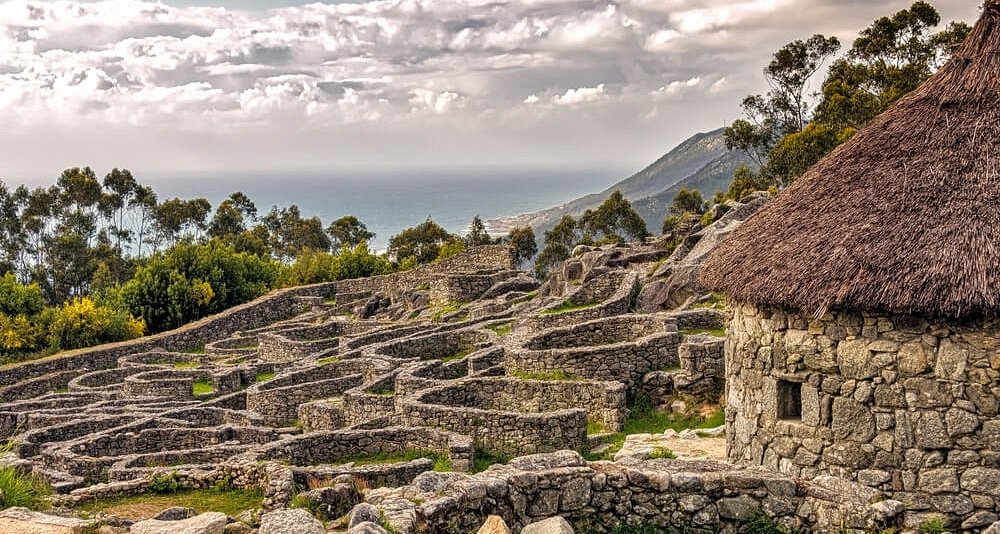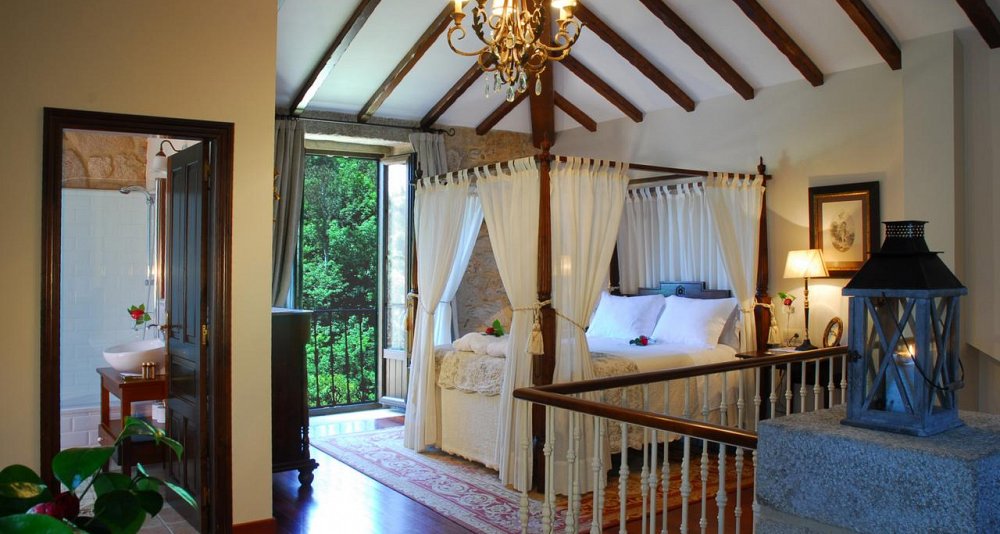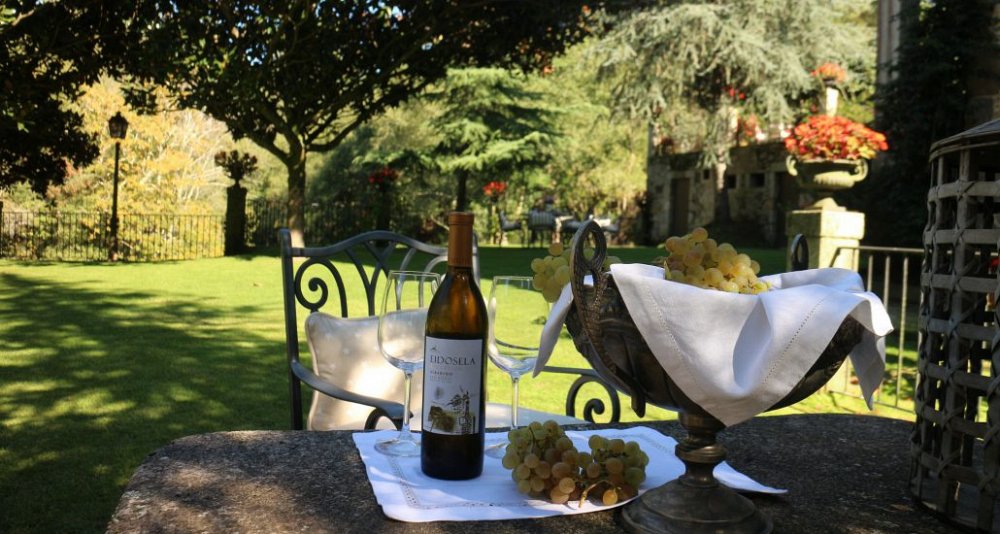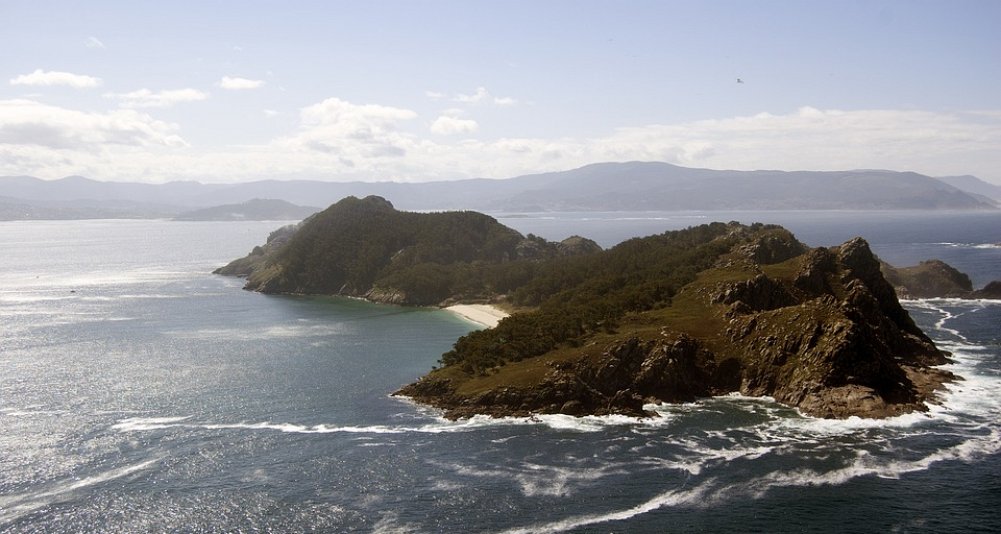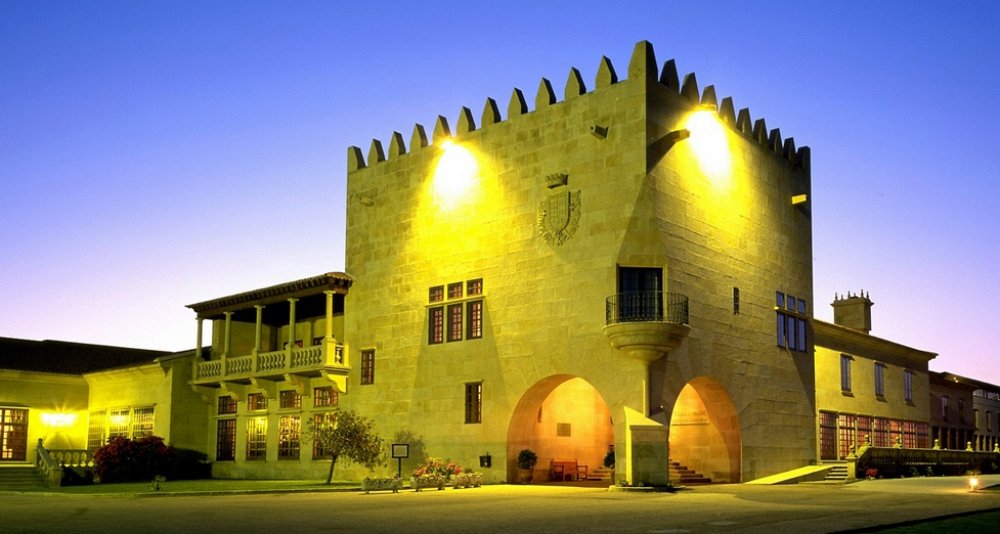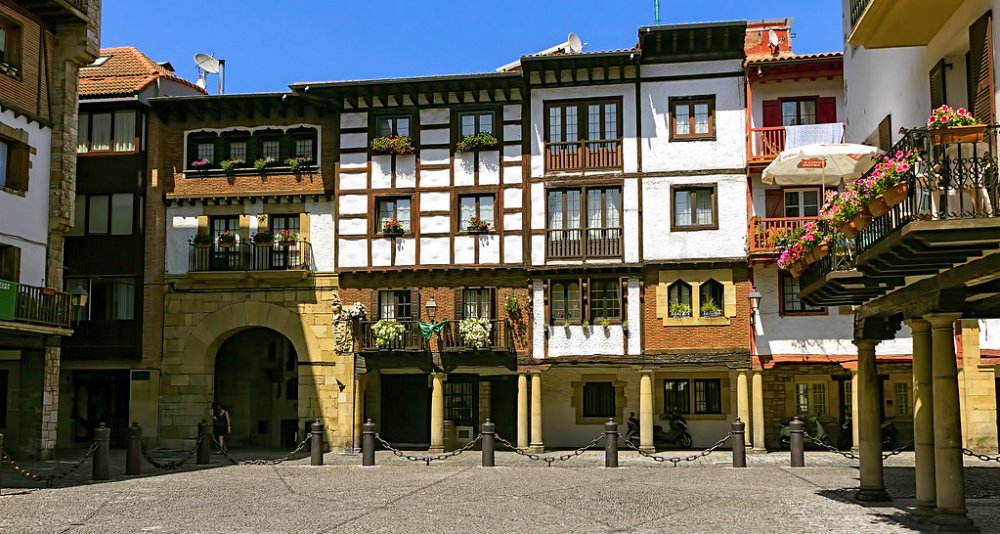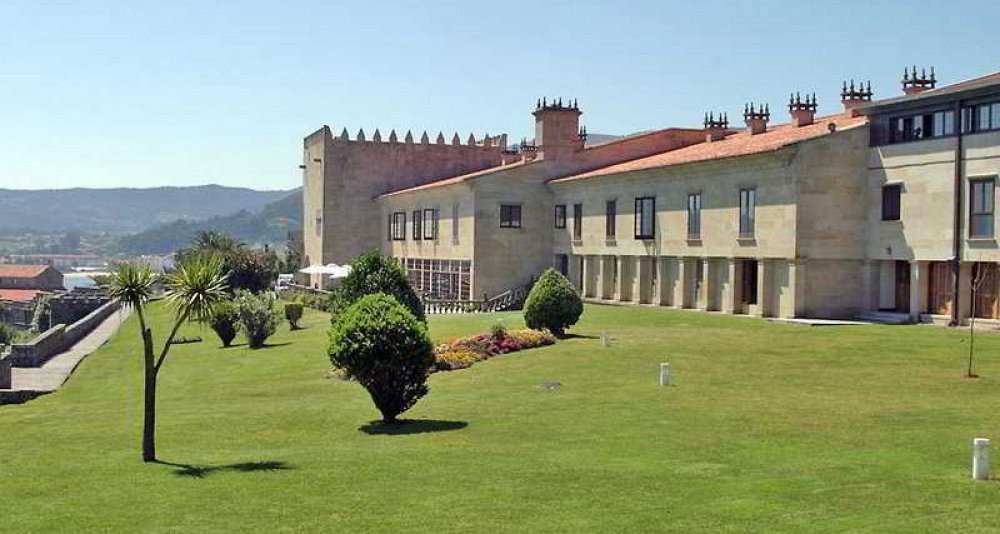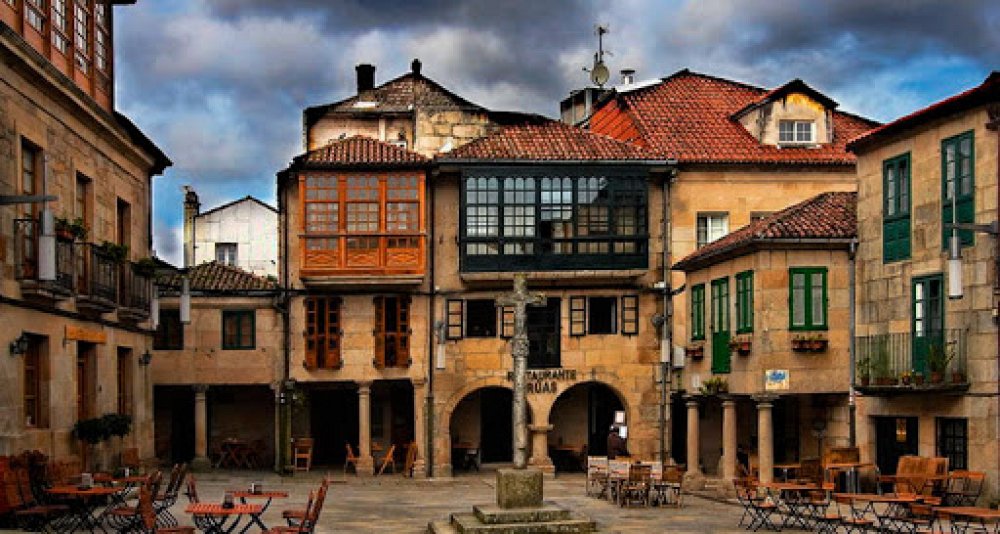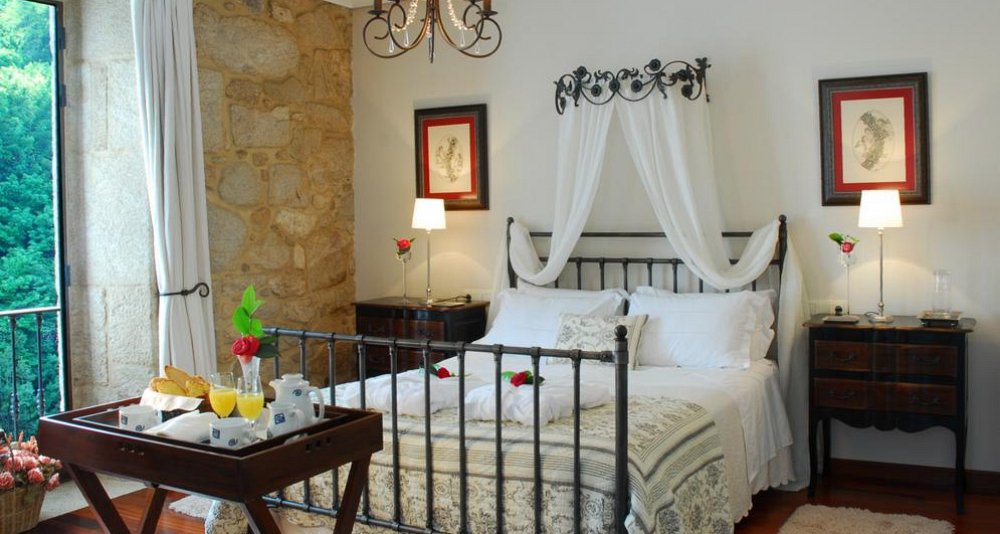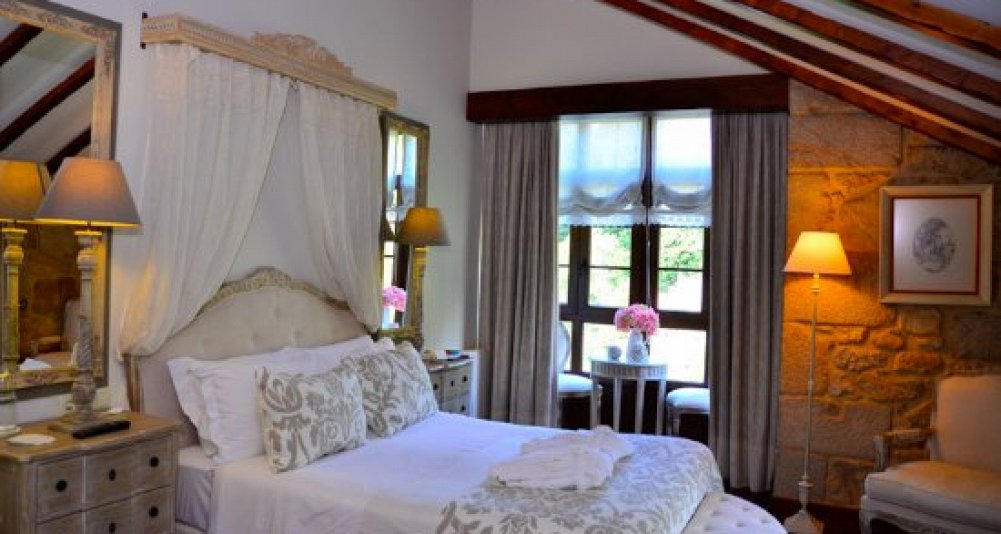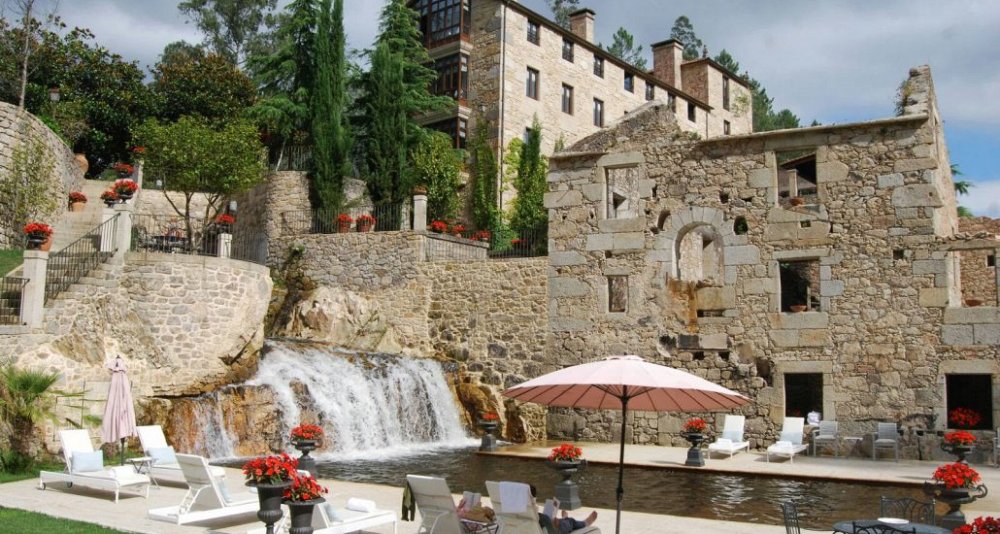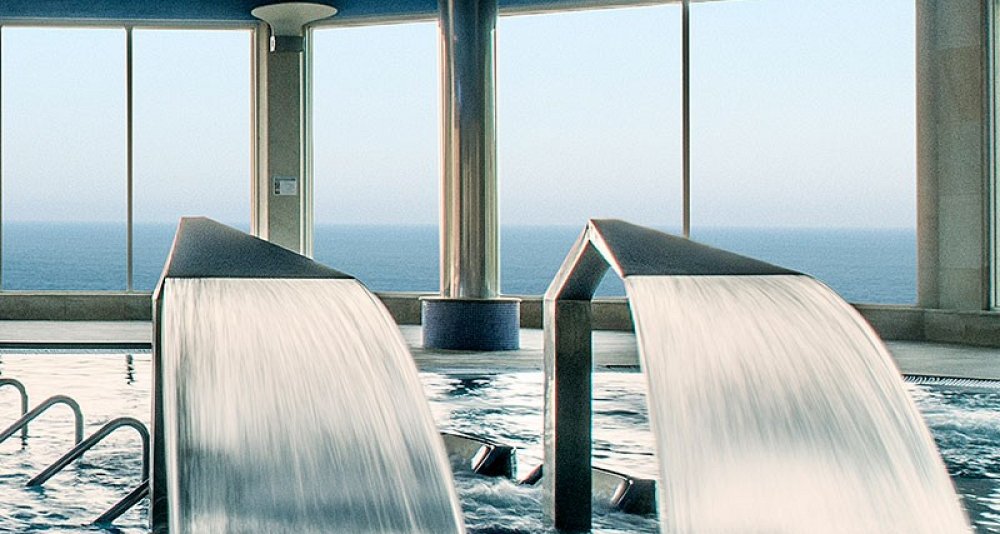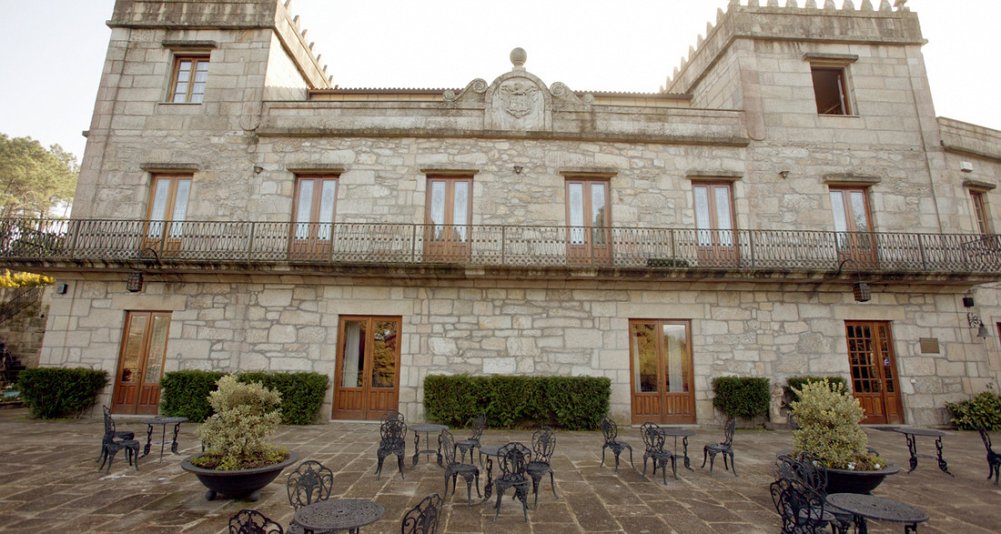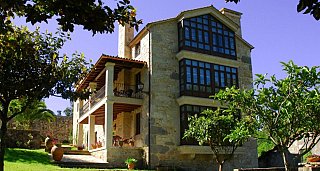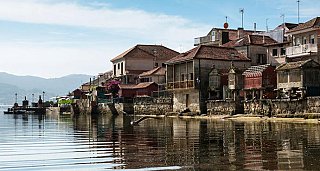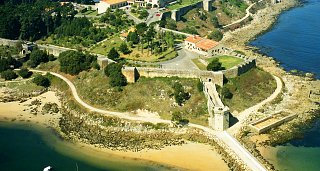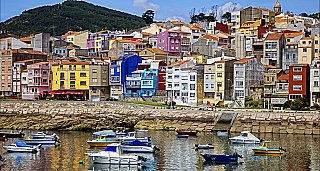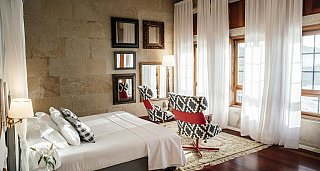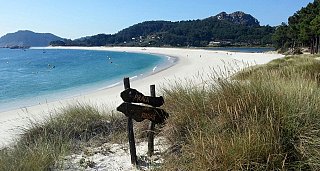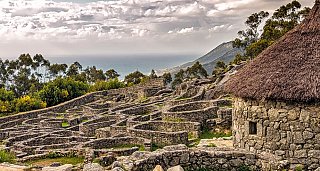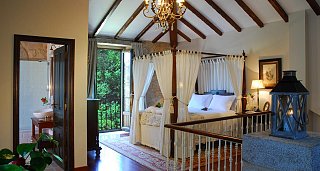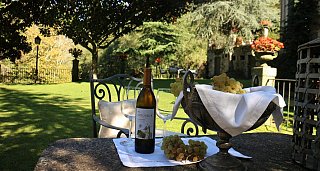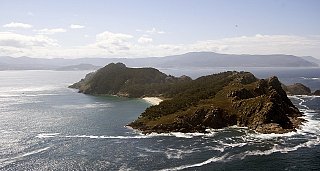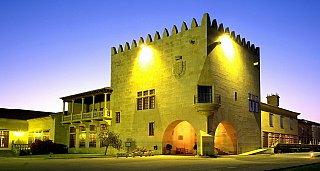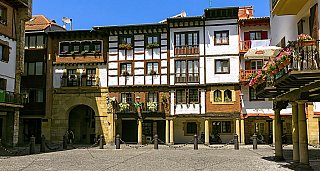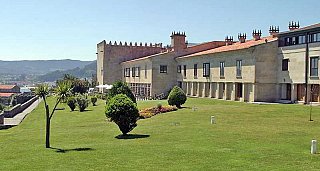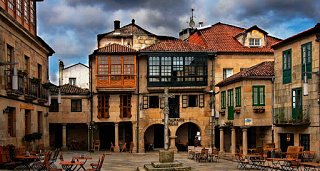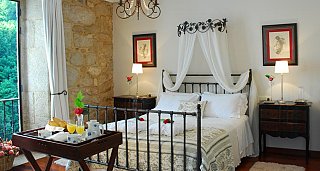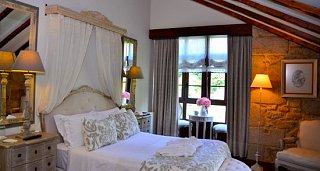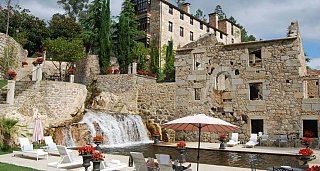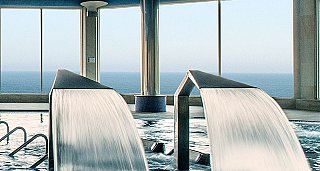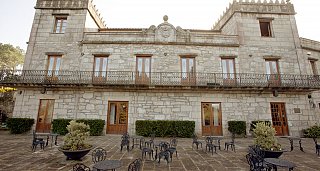 Day 1. Arrival in Caldas de Reis
In case your arrival is at the airport or train station of Santiago de Compostela and you have chosen the rental vehicle option, we will pick up the car at the indicated place. In case you travel with your own vehicle, we will go directly to Caldas de Reis.
Halfway between Santiago and Pontevedra is Caldas de Reis near A Baxe next to the reservoir where with your own car and at your own pace you will arrive at the Torre Do Río hotel where it will be the first place of rest for two nights.
On this first day, the check-in will be carried out in your pazo and you will rest as necessary according to the trip you have made. Depending on the time of arrival and the rest time you need, you will have the option of visiting the environment that surrounds you where you will find the reservoir and its dam or approaching Caldas de Reis and its Thermal Spring of Las Burgas and visiting one of the spas in the city. zone.
In any case, this first day will be free to have a day of rest and regain strength for the next few days. First night to sleep in the assigned hotel in Caldas de Reis.
Day 2. Villagarcía de Arousa - O Grove - La Toja - Sangenjo - Accommodation in Pazo in Caldas de Reis
Breakfast at the hotel with the wonderful views that the complex offers you and once you have gathered strength, the first route will begin on this second day. With your own car you will visit 4 towns and then return to the pazo to enjoy the second night.
Without counting the time of visits, the total journey by car will be around 1h 45min in about 109 km.
The route is:
Villagarcía de Arousa
Before arriving, it will be worth stopping at the Pazo de Baion, which was the old pazo of the drug trafficker Laureano Oubiña, and the Pazo de Rubiáns, very close to Villagarcía de Aurosa, which contains not only a very interesting building with a French air, but also its gardens. , vineyards and wineries where you can taste albariño and a little cheese.
Once this visit is done, we can go directly to Villagarcía, which is full of charms such as its beaches, country houses and its port. In the city we can take a walk to see the convent of Augustinian nuns and a pazo with a joyful view that currently cannot be visited from the inside but its exterior perfectly reflects its typical Galician civil architecture style.
It is not the only pazo that it has, you can also see the Pazo de O Rial, Pazo do Castriño and the pazo da Golpelleira that today are reused as hotels or areas for events such as Weddings.
O Grove and La Toja
We can turn off towards Cambados if you want to see the charming Pazo de Monstesacro and if you decide to continue, link with the AG-41 and VG-4.1 you will go towards El Grove and the island of La Toja in about 35 minutes by car.
Before arriving at O ​​Grove and La Toja, you will see the wonderful Lanzada beach and possibly feel tempted to touch its sand of the highest quality. These two towns are separated by the La Toja bridge. This area is idyllic and perfect for strolling along its beaches, forest park and maritime views.
According to time management, it can be an incredible area to try its gastronomy with several steakhouses, seafood restaurants or several tapas bars. If you spend a good time on the island of La Toja, you will find the Talaso Hotel Louxo la Toja where you can enjoy its treatment offers in the Talaso for your relaxation before heading towards Sanxenxo or the 5-star Hotel Eurostars Gran Hotel la Toja with balneotherapy treatments.
Sanxenxo
Starting from the road where you arrived at El Grove you will arrive at Sanxenxo in a small detour in O Vinquiño and it will only take you about 17 minutes to get there.
You can enjoy its many beaches, viewpoints and nautical clubs. If you decided not to go to the Talaso de la Toja, here you have even more options such as the Hotel Carlos I Silgar, the Gran Talaso Hotel Sanxenxo or the Hotel Augusta Spa Resort Superior where you can relax in this last town on the circuit. It is also a good place to have tapas or eat at its bars, restaurants and inns while strolling through its seaport and beach.
Route of the first days (Route with detours to pazos):
Day 3. Pontevedra - Pazo in Vigo
Breakfast at the pazo de Caldas de Reis and end of services.
Before arriving, we can visit Pontevedra, which is very close. The city gets its name from Latin, "old bridge" and is one of the important centers on the Camino de Santiago Portugues. We will enjoy a Guided Tour of Pontevedra where we will visit an old town with numerous chapels, squares, convents, ruins and interesting museums, it is a city that invites you to stroll quietly and enjoy its landscapes and environment.
We can visit the Pazo de Mugartegui which is a baroque building with carved stone from the city's quarrymen. The great noble coat of arms that can be seen on its cover is noteworthy. You can also visit an abandoned Pazo with incredible gardens such as the Pazo de Lourizán. It is an incredible pazo with a very spectacular French Romanticism style.
Once the visit is over, you can choose to try its gastronomy in the city or go directly to the pazo in the town of Vigo, where we will check-in and we can have dinner there.
Day 4. Vigo - Cíes Islands
Breakfast at the pazo in Vigo and start of day 4 in Galicia.
According to the time selected to take the ferry to the Cíes Islands, we can take a walk through Vigo or go directly to its seaport.
The islands belong to the National Park of the Atlantic Islands and are totally paradisiacal islands and in perfect synchrony and balance between tourism and a careful ecosystem. It has some of the best beaches in Europe and the world, such as its spectacular Playa de Rodas.
There are two restaurants where you can eat, we recommend booking in advance.
The return to Vigo may change, depending on the time of return from the islands, they will have more time to enjoy the beautiful city. Vigo has a very interesting old town and the castle of San Sebastián on the Castro hill. You can visit the contemporary Museum of M.A.R.C.O and its port, which is one of the most important fishing ports in the world. It is also interesting to visit the Pazo de Castrelos converted into a Museum, officially called the Quiñones de León Museum or the Pazo de San Roque.
Finally they will return to the pazo in Vigo to enjoy the second night in this pleasant complex.
Route of days 3 and 4 (from Vigo by Ferry to the Cíes Islands):
Day 5. Baiona
We will have breakfast at the Vigo pazo and leave the hotel to continue on the N-552 or N-550 towards the south connecting with the AG-57 towards Baiona.
The tour will last about 40 minutes. The accommodation in Baiona according to your wish, can vary between a thalasso hotel in Baiona if you would like to enjoy thalassotherapy treatments, or the Parador de Baiona located in an incredible bay on the Monterreal peninsula is an elegant walled building facing the sea or a Pazo con Encanto, one such as Pazo Mendoza. It will also depend in any case on availability on the dates you have selected.
This day is to enjoy Baiona, rest, taste its exquisite cuisine, or spend a wonderful day on the beach or take a relaxing bath in a thalasso. The most remarkable thing in Baiona are its beaches and its nautical activities. Its old town was declared a "Historic Artistic Interest Complex". We will spend the night in the assigned accommodation.
Day 6. Baiona - Castro Santa Trega - La Guardia - Tui - Valenca do Minho
Breakfast at the hotel, our sixth day begins. We will head towards La Guardia, taking PO-552, a coastal road, where we will make a stop at Castro de Santa Tecla, in the most southwestern corner of Galicia, a privileged place where the entire mouth of the Miño River is dominated. The Castro is a walled town where you can see the settlement layout. It contains an archaeological museum where you can see the cultures that settled in the place.
After this endearing visit, we will go to Tui.
It is a city where you have a lot to see, starting with its Monte Aloia natural park, its Tui cathedral, the Santo Domingo de Tui monastery and its fascinating churches and landscapes. Finally, passing the border over the bridge, you will be able to see the Valença fortress in Portulgal where you will see its incredible moats and walls. If they go in good weather, they will have the option of staying to taste their traditional cod.
Once this visit is made, we will return to Baiona, where we will have dinner and rest.
Routes on days 5 and 6. (to get to Valença do Minho we can also do it by crossing the bridge over the Miño without deviating):
Day 7. End of the Circuit
The next day in the morning we will have breakfast and we will check-out at the hotel. If you chose to rent the car, it will be left in the indicated place.
We wish you a safe journey back hoping that you have enjoyed these days in Galicia.
The meeting point will be the Santiago train station or the Santiago de Compostela airport where our driver will pick you up in a 5, 7 or 9-seater vehicle depending on the number of passengers that make up your private group.
It is advisable to always wear comfortable clothes and comfortable shoes in any type of experience and visit. Some of the routes are longer than others and it would be a good idea to plan departure times well in advance.
NO CANCELLATION FEES up to 7 days before the start
6 nights accommodation + breakfast in Pazos y Casas con Encanto
Private transfers in tourism of 5, 7 or 9 seats.
Guided tour in Pontevedra.
Ferry tickets to visit the Cíes Islands. Processing for the visitor of the authorization of the National Park.
Complete route itinerary.
Basic Travel Insurance.
Free Cancellation Insurance (up to 30 coverages)
Telephone assistance service en route.
Additional options
Single room supplement: 340€ / Person
HOW TO FORMALISE YOUR RESERVATION
Our travel agency advised to book minimum 15 days in advance for a better management. It remains feasible to book this gateway although is made less than 15 days. However it is advisable to do it with more time in advance.
A deposit of 60€ will be required so as to formalise the reservation.
Once your reservation has been formalised, shortly after, our team will be in contact with you to specify all of the details. Once the reservation is finalised, we will send you all the information for your compliance.
Once all the services have been booked and confirmed, the client must make full payment minus the deposit paid in advance, 15 days before the beginning date. In case the reservation has been formalised less than 15 days before starting date, the client must paid in full the total amount
NO CANCELLATION FEE up to 7 days before beginning date. In this case, we will refund the total amount paid as deposit. Up to 7 days before the start date, there is no cancellation fee.
In the unlikely event that it gets cancel, the deposit will get refund in full. If you require any further information, please contact us via email info@getingalicia.com or mobile/whatsapp (+34) 639 935 925
Thank you for trusting www.getingalicia.com
If you desire to visit GALICIA there are more than 1500 different types of accommodation, such as Boutique Hotels, Hostels, B&Bs, Galician traditional houses, Country Houses, Spa-Hotels, Thalassos, Apartments...
For further information please click here
Privacy Policy
This organization will keep the information confidential and use it exclusively to provide the services requested, with all the legal and security guarantees mandated by Organic Law 15/1999, of the 13th December on the Protection of Personal Data.
Get in Galicia commits to not passing on, selling or sharing the information with third parties without express approval. Furthermore, Get in Galicia will delete or rectify the information when it is inaccurate, incomplete or ceases to be necessary or relevant to its purpose, in accordance with the terms of Organic Law 15/1999 of the 13th December, on the Protection of Personal Data.
The user can withdraw the consent they have provided and exercise their right to access, rectification, cancellation and opposition by communicating with the corporate management of Get in Galicia duly identifying themselves and providing concrete proof that they possess the right they wish to exercise.
Get in Galicia adopts all the security levels required by said Organic Law 15/1999 on the Protection of Personal Data and its development guidelines. However, Get in Galicia accepts no responsibility for damage and harm caused by changes third parties may make to the user's computer systems, electronic documents, or files.
Get in Galicia may use cookies during the provision of its website services. Cookies are physical files of personal information stored in the user's own computer terminal. The user has the capability to configure their navigator to prevent the creation of cookie files or to warn that they have been created.
If the user chooses to leave our website via links to websites which do not belong to Get in Galicia, the company accepts no responsibility for the privacy policies of other websites or the cookies they may store on the user's computer.
Our policy on electronic mail is organized to only send emails which you have requested, or agreed to receive.
If you prefer not to receive these messages by electronic mail we offer the option of exercising your right to cancellation and refusal to receive messages, in accordance with the terms of Title III, article 22 of Law 34/2002 on Computation and Electronic Commerce Services Provided to Society (LSSI).